.
Services have become an impressive factor for growth and the creation of jobs. 93% of the new jobs created in the U.S. between 1970 and 2000 are jobs in services [2]. Leading enterprises in the U.S. derive more than 50% of their revenues from services [1]. This applies not only to pure services such as transportation but also for material products that are augmented by services such as maintenance, consulting and training. Through services, enterprises stabilize their revenues. There is no accepted general definition of service, but many definitions contain the idea, that a service is "the application of specialized competences (knowledge and skills) for the benefit of another entity, rather than the production of units of output" [3]. Services are more and more considered as part of a so-called service system. A service system is defined [4] "as a value co-production configuration of people, technology, other internal and external service systems, and shared information (such as language, processes, metrics, prices, policies, and laws)".
Therefore it is no surprise that the term service has also become very popular in enterprise computing. However, the term service may have different meanings in enterprise computing. Three flavours of services can be differentiated: technology services, software-services, and business services.
Technology services are more hardware flavoured services which are provided using computers. They may have a human addressee but contain many infrastructure services such as providing computing power, storage etc. They are an important topic in management and practice collections such as ITILV3 or standards such as ISO/IEC 20000 have gained a high popularity.
Software services are managed in so-called Service-Oriented-Architectures [5] that are a popular paradigm for creating enterprise software. A service in the context of SOA is a special kind of interface for an encapsulated unit of software.
Business services are services which directly support business processes. They may be further differentiated into those visible to the customer and those that are not. Business processes can also be developed dynamically (on-the-fly) using business services which are available in a repository for a given business domain.
In the field of Information Systems and -in a broader sense- Enterprise Computing, the notion of "Enterprise modelling" refers to a collection of conceptual modelling techniques for describing different facets of the organisation including operational (IS), organisational (business processes, actors, flow of information etc), and teleological (purposes) considerations [6]. Existing enterprise modelling frameworks stress the necessity of representing and structuring enterprise knowledge taking into account all these facets in order to develop IS and IT architectures that enterprises need. The contribution of the software systems to the realization of the business processes and consequently to the objectives of the company is of primary importance. A change in one of these facets of the organization implies multiple impacts on the two other facets. In other words, it seems unrealistic to consider an organizational change without any impact on the information system or an evolution of the IS which does not call into question the processes or even the objectives of the organization.
An enterprise architecture[7], [8], [9]defines the interactions and articulations between business and information technology and their alignment or congruence. A service-oriented enterprise architecture uses services to describe the articulations of business and information technology. It has to identify the business services needed to support the business processes of the enterprise, and to map the business services to technology and software services as shown in the figure below. Technology and software services are both called IT services in the following.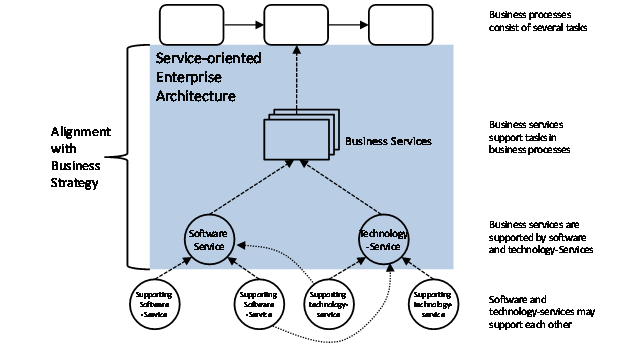 Service-oriented Enterprise Architecture
The enterprise computing systems which shall manage Service-oriented Enterprise Architectures have to support the creation, administration and execution of services. Thus, they must be able to store the service definitions and make them available for a consumer in a service catalogue. The same applies to the so-called service-level agreements that define the quality of service agreed upon with consumers. Upon a service request from a consumer entity, the service support system has to monitor the fulfilment of the service-level agreements and also to provide remediation procedures which contain so-called escalation mechanisms. Furthermore, based on the monitoring, improvement procedures shall be established.
[1]J. Howells, B. Tether, and C. Europea, Innovation in Services: Issues at Stake and Trends, Office for Official Publications of the EC, 2006.
[2] G. Allmendinger and R. Lombreglia, "Four strategies for the age of smart services," Harvard business review, vol. 83, Oct. 2005, pp. 131-4
[3] R.F. Lusch, S.L. Vargo, and G. Wessels, "Toward a conceptual foundation for service science: Contributions from service-dominant logic," IBM Systems Journal, vol. 47, 2008.
[4] Jim Spohrer, "Steps Toward a Science of Service Systems," Jan. 2007.
[5] M.P. Papazoglou and W. Heuvel, "Service oriented architectures: approaches, technologies and research issues," The VLDB Journal, vol. 16, 2007.
[6] J. Barrios, S. Nurcan. Model Driven Architectures for Enterprise Information Systems. the 16th Conference on Advanced Information Systems Engineering, (CAISE'04), Springer Verlag (pub) , June 7-9, 2004, Riga, Lettonie.
[7] J.A. Zachman, "The Framework for Enterprise Architecture: Background, Description and Utility," Zachman International, 1996.
[8] A. Wegmann, "The systemic enterprise architecture methodology," at the International Conference on Enterprise Information Systems, 2003.
[9] J.W. Ross, P. Weill, and D.C. Robertson, "Enterprise Architecture as Strategy," Harvard Business School Press. August, vol. 1, 2006.